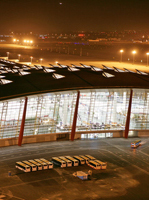 Beijing Capital International Airport (BCIA), known as "China's No.1 Gateway", is the most important, largest and busiest international aviation hub with the state-the-art facilities. It is also China's important window to communicate and exchange with the outside world. Over the past 50-plus years since its inception in 1958, BCIA has been striding forward along with time. Especially since the implementation of the reform and opening-up policy, China has been enjoying fast economic development; moreover, Beijing, the base of BCIA, enjoys unique political, economic, cultural and geographical advantages. Against such a background, BCIA sees its annual passenger throughput rise from 1.03 million in 1978 to 86.13 million in 2014, ranking second among airports in the world.
To meet the ever-growing demand of passengers, BCIA has carried out large-scale expansion and reconstruction projects for altogether seven times since 1965. On January 1, 1980, Terminal 1 was officially put into operation. On November 1, 1999, Terminal 2 was put into use. The construction of Terminal 3 started on March 28, 2004, and after three years and nine months' hard work, BCIA completed, with high quality and fast "Chinese speed", the construction of the world's largest integrated terminal – Terminal 3. During the less-than-two-month trial run, BCIA organized six large-scale drills involving near 60,000 participants, and finally realized successful take-over and smooth operation of the Terminal 3, which is highly praised by our counterparts from across the world. Since then, with its hardware effectively expanded, BCIA has become the only airport in the Asian-Pacific Region that has three terminals, three runways, and two towers operating simultaneously. Now it is making its way to rank among the super-large aviation hubs in the world.
As the core node of Europe, Asia and North America, BCIA possesses an advantageous geographical location, a simple and convenient transfer procedure and a highly effective collaboration mechanism, making it the most convenient aviation hub connecting Asian, European and American aviation markets. All of China's main domestic airlines, including Air China, China Eastern Airlines, China Southern Airlines and Hainan Airline have established operating bases in BCIA. Star Alliance, Skyteam Alliance and Oneworld Alliance also regard BCIA as an important transfer hub. As the increasingly improved international airline network comes into being, BCIA is becoming one of the busiest airports in the world, with 1,700 flights from 94 airline companies make Beijing be in a close bond with 244 cities in 54 countries around the world every day."China No.1 Gateway" is now on its way towards a large international hub airport!
BCIA has always been taking safety as its top priority, to build a safe airport. Its good safety records have passed the strict examination of ICAO and CAAC, and have won full trust from airlines and passengers both at home and abroad.
Over years, via the platforms of the "Passenger Service Promotion Committee", "Safety Management Committee" and "Operation Coordination Management Committee", BCIA has been making efforts to build the corporate culture as reflected in "Under the same gateway, we are a family", and the brand of "China Service". Thanks to the joint efforts of nearly 100 residing organizations, BCIA registers rapid increase in terms of the passengers' satisfaction degree. In 2014, Capital Airport gained a record of 4.93 in the passengers' satisfaction evaluation created by ACI, ranking the third among global airports.
BCIA attaches great importance to its social responsibility. It has released corporate social responsibility reports for four consecutive years. Guided by the strategy for sustainable development by pooling strengths of multiple parties to create green Gateway to China, BCIA sticks to the philosophy of "energy conservation, low carbon generation, high-tech application and friendly service delivery" in daily operations, so as to promote the sustainable development of the airport. As China's important air portal and window for international exchanges, BCIA exerts increasing impact upon regional economy. In 2011, BCIA contributed as much as RMB 133.948 billion to Beijing's economy, accounting for 8.24% of the GDP of Beijing municipality, and created 676.9 thousand jobs in Beijing, with the related employees accounting for 6.23% of all the employees in the city.
With the fast development of China's economy, BCIA makes increasingly faster strides forward. In 2014, Beijing Capital International Airport won the awards of "The Third Best Airport in the ASQ Asia-Pacific Region of 2014", "The Second Best Airport with the Annual Passenger Throughout of above 40 million" issued by ACI, granted "ACI-APEX Project Cooperation Certificate" by ACI, recognized as "One of Asia's 500 Best Airports" by Asia Brand Association and awarded the honor of "China Securities Bauhinia Award – The Most Socially Responsible Listed Company".
Facing future, the "China No.1 Gateway" is striding ahead on its way of "Advocating China Service and Creating an International Hub", to serve Beijing and build it into a "City of the World". In the meantime, the BCIA is striving to build China into a country with a powerful aviation industry.
Address:Siwei Road,Capital Airport,Bei Jing,China