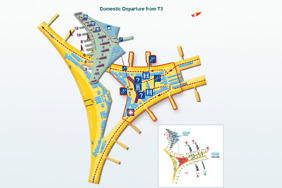 Security Check:
Please make sure that your boarding pass, flight ticket and passport are ready for security checks. You are required to pass through the security gate, while your carry-on luggage has to go through X-ray checks for flight safety. Thank you for your cooperation.
Provisions on Liquids for Domestic Flights?
1. Except a small amount of cosmetics for personal use on your journey, passengers on domestic flights are not allowed to carry on liquids, which can be carried in your checked luggage though, in accordance with relevant packaging provisions.
2. The small amount cosmetics that can be carried with the passengers do not include shampoo, shower lotion, hair conditioner, depilatory paste, health & beauty cream, etc. Only one container of each cosmetic product can be carried with the passengers and the size should not exceed 100ml. The containers should be placed in an independent bag, and be opened/unsealed for inspection. If the size exceeds 100 ml, the container must be checked rather than be carried with the passengers no matter whether it is full or not.
3. Passengers with babies can apply for free liquid dairy product provided by airlines when buying the tickets. Essential liquid medicines for diabetic patients or other patients can be kept by aircrew after security check.
4. We don't accept responsibility for passengers missing their planes due to violations of provisions above.