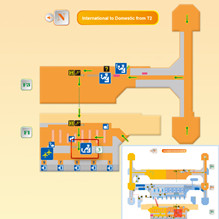 Customs Inspection:
If you take accompanied articles that must be declared to the customs, you should complete China Customs Declaration Form for Baggage of Incoming/Outgoing Passengers and choose "GOODS TO DECLARE" Channel (also known as Red Channel) otherwise it is unnecessary for you to complete such form, but just follow "NOTHING TO DECLARE" Channel (also known as Green Channel) (except those exempted from customs inspection and supervision in accordance with relevant regulations, or those passengers under the age of 16 who are traveling with adults): Entry passengers carrying any of the following articles should report truthfully in the "Declaration form" and hand in the related articles for the certification of the customs, and transact the relevant procedures: For outgoing passengers, the following articles must be declared faithfully in the Declaration Form, and they should submit declaration form to the customs for check and handling relevant procedures:
1. Animals & plants and their products, microorganism, bio-products, human tissues, blood products;
2. Self-prepared articles acquired abroad by resident passengers, with a total value exceeding RMB 5,000 (or equal to RMB 5,000, similarly hereinafter);
3. Articles to be left in China by a non-resident passenger, with a total value exceeding RMB 2,000;
4. Over 1,500ml alcoholic drinks (alcoholic content is more than 12 degrees), over 400 cigarettes, over 100 cigars or over 500g tobacco shred;
5. More than 20,000 RMB cashes or a kind of foreign currency with an amount exceeding US$ 5,000 after converted into US dollar;
6. Separately-shipped baggage, goods, samples and advertisement works;
7. Other articles required for customs declaration.
8. Animal and Plant Quarantine. If necessary, please undergo spot-check of animal and plant quarantine.