Launch "Seven Billion People's Dream: One Planet, Consume with Care" Global Environment Campaign Jointly
On June 4th (Beijing time), Beijing Capital International Airport and UNEP (United Nations Environment Programme) conducted strategic cooperation signing ceremony in Terminal 3 of Capital Airport. Both parties defined a number of cooperation in many fields including environment protection, green airport operation and enterprise sustainable development. In the meantime, they also unveiled the campaign with the theme of "Seven Billion People's Dream: One Planet, Consume with Care", advocating and spreading the environmental awareness and concepts of sustainable development. Mr. Boli, Shi, general manager of BCIA. and Mr. Ibrahim Thiaw, the UN Assistant-Secretary-General and UNEP Deputy Executive Director attended the signing ceremony.
In the ceremony, Mr. Boli, Shi, general manager of BCIA said that in recent years, depending on the sustainable development strategy of "unite with multiple forces and build green China gate", BCIA united with multiple forces to perform environment protection, aiming to build an "energy-saving, environment-friendly, technical and passenger-friendly" airport. By promoting LED light source transformation, introducing new energy automobile, constructing charging station, promoting airplane ground electrical power source and other projects, BCIA decreased energy use and carbon emission efficiently. In the meantime, BCIA conducted environment protection public service campaign, actively participated in Beijing carbon trading, and became the first airport gaining the national energy management system certification in China, showing its positive attitude in performing environment protection responsibilities consciously.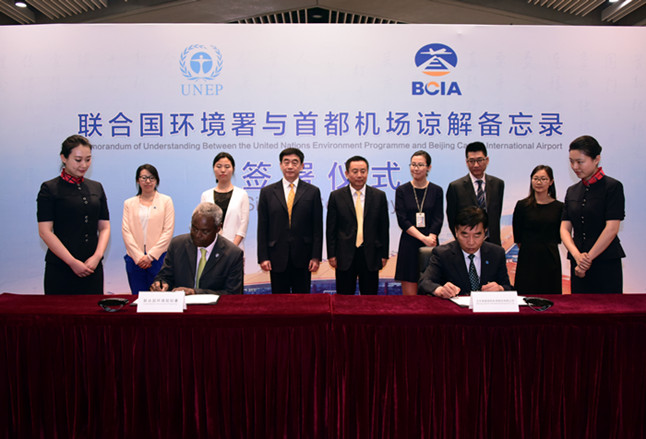 BCIA and UNEP signed memorandum of cooperation for the first time in 2013 and conducted one-year environment protection campaign jointly, which gained high appraisal from UNEP. Mr. Achim Steiner, UN Under-Secretary-General and UNEP Executive Director, regarded it "inaugurated a new cooperation model between UNEP and responsible enterprises". At this time, cooperation between BCIA and UNEP again in 2015 environment protection campaign manifested both parties' high appreciation in preliminary work. BCIA is the only airport on the list of UNEP "Global Strategic Partners" on this Environment Protection Day.
This re-cooperation between BCIA and UNEP is an important part of its "Green Airport Development Strategy". On the basis of former cooperation, both parties shall further expand cooperation fields and priorities in environment protection aspect, conduct regular visits and communication, exchange opinions in terms of green airport construction, sustainable development, environment public benefit and public participation, and conduct unified campaign when necessary, actively presenting the determination and measures of a responsible Chinese enterprise in environment protection.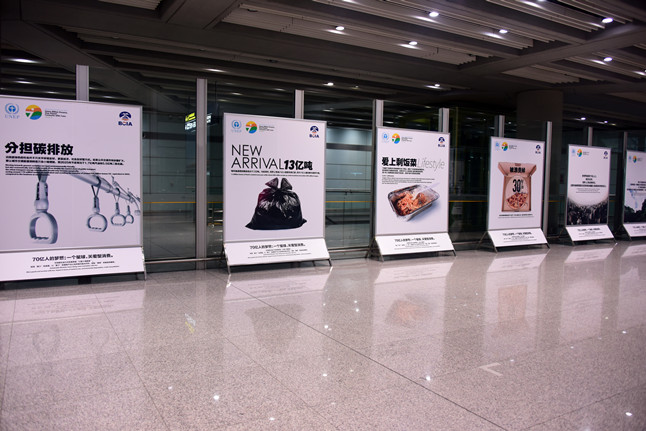 In order to achieve better campaign effect, BCIA has invested unprecedentedly airport resources including nearly 400 televisions at the boarding gates of three terminals, 80 posters and 64 LED screens to present intensively posters and public advertising videos with the theme of "sustainable production and consumption" in the following five months.