In order to strengthen the friend relationship and expand cooperation with Munich Airport, Dr. Soeder, the Minister of Finance, Development and Home Construction of Bavaria, Germany and Chairman of the Supervisory Board of Munich Airport, led a delegation group visited China, at the same time,, Munich Airport also sent its staff to BCIA for on job training and exchange. BCIA and Munich Airport signed the official Sister Airports Memo Extension Agreement on March 30. Three days after the ceremony, BCIA-Munich Airport Photo Exhibition Unveiling Ceremony was held in T3.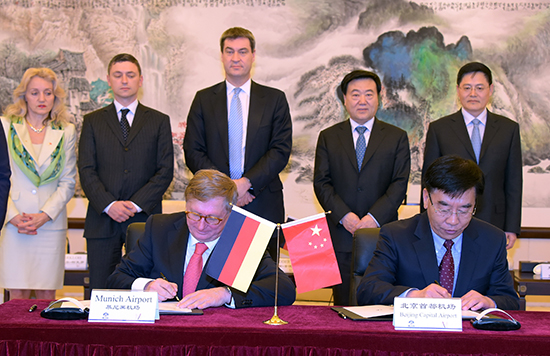 BCIA and Munich Airport signed a Memo on Establishing Sister Airport Partnership between two airports in September 2011. In 2012, they further signed special agreement on human resource cooperation. Under the framework of friendly sister airport partnership , both parties have developed extensive and deep exchanges in various fields in recent years, including strategic planning, airport construction, energy management, passenger services, "green airport", information technology and human resource. BCIA had sent two groups of its core staff to Munich Airport for on job training and exchange successively. The exchange fields included airport planning and operation, airport logistics, airport retail and catering, charge management, airport brand building, airport safety management system, passenger feedback system, service management system, emergency rescue management, flight normality management, airport advertisement and media, runway maintenance and apron planning, airport traffic management, foreign-object management, bird strike prevention, contractor management, de-icing management and other fields. Munich Airport sent the first group of core staff to BCIA for on job training and exchange in 2012. The second group began their on job training and exchange from March 31, 2012. The exchange contents include air transport service, airport commerce and retail management, service management, quality and project management, project and facility management, enterprise communication and media management, sustainable development, real estate management, information technology service and other fields.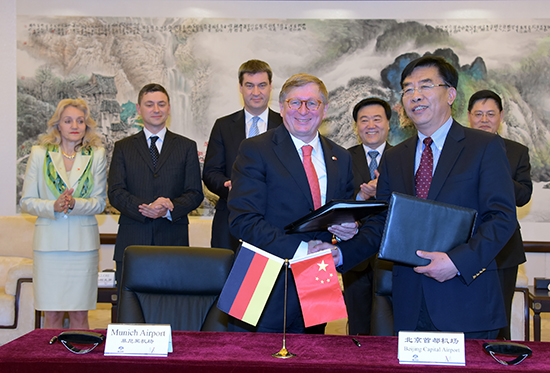 The purpose of signing Extension Agreement with Munich Airport is to expand and deepen the pragmatic cooperation between BCIA and Munich Airport. The Agreement proposes that BCIA and Munich Airport shall conduct cooperation in the following four areas: first, deepen cooperation in service management. Both parties shall support and assist each other, analyze difference and conduct airport customized service together to better meet passengers' expectation and achieve high passenger satisfaction. Second, conduct multi-cooperation. Both parties shall enhance strategic cooperation and business connection with their base airlines respectively, and increase operation efficiency and transfer capacity together to provide a better travel experience for passengers. Third, expand the cooperation in fields like retail, commerce, information technology, including cooperation in planning of terminal commerce, airport commerce membership and airport commerce development so as to provide more diverse and convenient shopping experience for passengers. Fourth, launch sister airport itinerant exhibition jointly, showing the charm of two cities respectively in their airports.
With the signed Agreement, BCIA and Munich Airport will enhance communication and cooperation, implement the above four cooperation intentions and build the aviation hubs with high customer satisfactory together.
The photo exhibition unveiled in T3 in the afternoon of March 30 is the first part of BCIA-Munich Airport itinerant exhibition, which lasted one month, showed passengers the charm of Munich Airport, Munich city and Bavaria. Next, BCIA will hold Capital Airport Photo Exhibition in T2 in October. The display contents of the Exhibition will include the building of Capital Airport, Beijing city image and famous landscapes, as well as policies about BCIA's 72-hour visa-free transit and 24-hour visa exemption.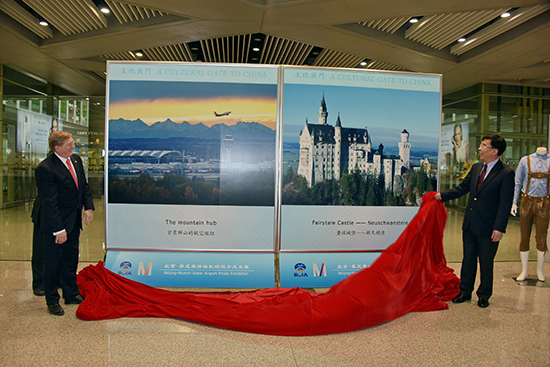 BCIA-Munich Airport Photo Exhibition reflects not only the implementation of the Extension Agreement, but also an innovation of BCIA and the partner airport to conduct pragmatic cooperation and publicize the image of Capital Airport as an international hub through the sister airport platform. The influence aviation industry on global economy has been increasing, while the air transport market competition is intensifying constantly. Under this background, it is vital for international airports to further enhance communication and cooperation with each other, increase hub competency together and achieve sustainable development. BCIA has always been focusing on cooperation with international airports. By far, BCIA has established sister airport partnerships with 26 international airports, launched and hosted three Beijing Global Sister Airport CEO Forums, which have established communication platforms among sister airports as well as between sister airports and domestic airlines, and received positive response and high praise from industry.
In order to promote sister airports to conduct more special pragmatic cooperation, in the 3rd Beijing Global Sister Airport CEO Forum in 2014, BCIA raised five detailed propositions in the fields of joint promotion, airport frequent passenger plan, safety management, service management and human resource. BCIA-Munich Airport Photo Exhibition is the first step of BCIA's joint promotion with its sister airports. In the future, BCIA will hold similar photo exhibitions with other sister airports, actively promote BCIA's air service products, 72-hour visa-free transit and 24-hour visa exemption policies, present the tourist attraction and international business communication charm of Beijing city, attract more international tourists to visit Beijing, or to transfer at Capital Airport, and enhance the international hub influence of BCIA.