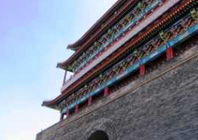 Along with the Great Wall, the Forbidden City is one of the must-see sites in Beijing. In the afternoon sunshine, the red walls and golden roof tiles cast a glow across the vast courtyards of this symbol of China's mighty imperial past.
If pressed for time, try to spend at least half a day exploring; if you have more time, consider return trips—the Forbidden City's stately spaces and myriad treasures are best lingered over.
Try to avoid weekends and holidays when crowds peak. If you're in a hurry, a tour guide can help you understand the significance of what you're seeing; if you have time, you might choose to explore on your own with a guidebook.
The world's largest palace complex, the Forbidden City (Gugong or Zijincheng) covers 720,000 square meters (0.3 square miles). The southern Tiananmen Gate—one of four gates connecting the palace to the outside world—serves as the main entrance.