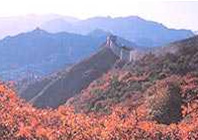 Only a 70 km (44 miles) drive from Beijing, Badaling is the most visited section of the Great Wall. Constructed during the Ming Dynasty (1368-1644), Badaling underwent extensive reconstruction during the 1950s and 1980s and now features amenities that invading barbarians would certainly kill for, from cablecar rides to snack stands, caged bears, souvenir shops and restaurants, not to mention air-conditioned tour bus travel down the Badaling Expressway, which links this length of wall to the capital.
With all the extras and the site's popularity, those seeking a less crowded and commercialized experiences may want to head further out to Simatai, Jinshanling or other spots. But for those on a tight schedule who want to get in a visit to a prime length of the Great Wall, Badaling makes for an excellent day trip. Despite all the commercial trappings and crowds, a walk along the Badaling wall can be a stunning experience.
With a little effort (the climbs can be steep, hence the cable car), you can gain commanding views of the surrounding countryside and get a strong sense of the overall grandeur and expanse of the world's most famous (if ineffectual) defense project. From Ming-era watchtowers, it's a pleasure to take in views of the ancient wall as it snakes its way into distant, rugged hills. An off-season visit can be a real delight, especially after a snowfall when the wall's dark brick makes for a striking contrast against the white slopes and ridges.