BeijingCapitalAirport provides particular and thoughtful services for special passengers. If you encounter any difficulty, you can ask the inquiry counter personnel for help, or call the 24-hour service hotlines, 86-10-96158(charged as local calls).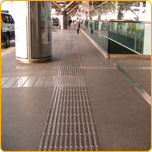 (i) Blind Path and Handrail Braille
The roads beside drivewaysin front of terminal buildings, each entry to the terminal buildings, front halls of the terminal buildings and entries to the handicapped-user-friendly elevators all have blind paths. All handrails and walkways have voice prompt functions. Floor indications in Braille are available at the stairway of boarding gate to guide physically challenged passengers.
(ii) Handicapped-User-Friendly Restroom
Restrooms are available in all sections of the terminal buildings. Agender-neutral handicapped-user-friendly restroom is set up beside each of most restrooms. This restroom is a separate room equipped with toilet, low-positioned basin, object table, clothes hook, low-positioned hand drier, etc. It is also equipped with safety handrail and emergency call system. It is very suitable to special passengers. The gender-neutral design also provides convenience for passengers who need to be accompanied by people of opposite gender. The male/female restrooms also provide a "friendly"toilet cubicle which is equipped with safety handrail for the convenience of passengers.
(iii) Low-PositionedCounter
For the convenience of wheelchair passengers, their needs are fully considered at the check-in counters, security check counters and inquiry counters of terminal buildings, with low-positioned counters specially set. The passengers can go through the procedures in an easy and rapid manner.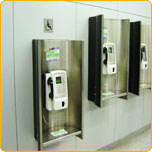 (iv)Low-PositionedTelephone
Public telephones are distributed everywhere in the terminal buildings. In each set of telephones, there is a low-positioned telephone for the convenience of passengers.
(v) EmergencyCall beside Driveways
PTT (push to talk) phones are available in terminal 1 and terminal 2, in front of all gates on the departure floor. Should you need any help, press the key on the panel to talk. All PTT phones are accessible and braille available.
Emergency call is available in front of the gates on the departure floor of terminal buildings. If you need help or encounter any emergency, you can dial 5818 (which means "Let me help you") for special passenger service.
(vi) Handicapped-User-FriendlySeats
For the convenience of physically challenged passengers, all seat areas of the terminal buildings are equipped with handicapped-user-friendly seats.
(vii) Handicapped-User-Friendly Elevator
Handicapped-user-friendly elevators are available in each floor switch area of TerminalBuilding No.1 and No.2. There are blind path and Braille buttons outside each elevator. Inside the elevator, handicapped-user-friendly facilities such as voice prompt system, low-positioned buttons, flat mirror and handicapped-user-friendly handrail, etc. are equipped for physically challenged passengers.
Wheelchair passengers have handicapped-user-friendly passage in T3. Each floor switch area is equipped with handicapped-user-friendly elevator, convenient for wheelchair passengers to go upstairs/downstairs. Inside the elevator, voice prompt system, Braille buttons, safety handrail and other facilities are available.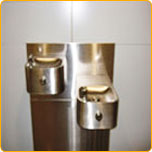 (viii) Handicapped-User-Friendly Water Fountain
Handicapped-user-friendly water fountains are provided to physically challenged passengers free of charge. Each water fountain has drinking water outlets on both high position and low position, providing both cold and hot water, for the convenience of handicapped passengers.
(ix) Handicapped-User-Friendly Stalls
Blind path is available beside each entry, exit and driveway of the terminal buildings and handicapped-user-friendly stalls are set up outside all entries of the departure floor. We also make the driveway a slope. You can easily drive along.
(x) Boarding Gate Flashing Indicator
Flash LED prompt information is available on the flight information screen of each boarding gate area of terminal buildings, which consists of handicapped-user-friendly international universal marks and flight takeoff marks. There are the flight takeoff marks and the characters of "immediate boarding" to prompt deaf and mute passengers for boarding information.
(xi) Handicapped-User-Friendly Channel
To make it convenient for special passengers to rapidly pass through the security check, handicapped-user-friendly channels are specially provided for special passengers in the terminal buildings.