"Warm Winter" Service for Passengers with Special Needs
1) Introduction
To facilitate travel in winter of special passengers (elderly people aged 65 and older, disabled persons, and pregnant women), Beijing Capital International Airport provides special passengers on southbound flights with the "Warm Winter" clothing safekeeping service for free from October 1 each year until March 1 next year, allowing them to travel with lighter packs.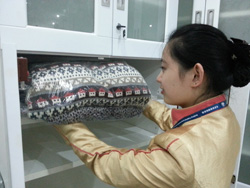 Feature: Free and convenient
Slogan: Travel Lighter and Easier
Period: From October 1 each year to March 1 next year
Description: Each passenger can leave up to two pieces of winter clothing for safekeeping for free
2) Procedure
1.Apply for Safekeeping
Passengers can go online, call the service hotline for special passengers to book 24 hours ahead of time. They may also book on the day of travel at the Passenger Service Center, T2 or the information desk at Exit B, T3.
2.Go through the Procedure
Upon the passenger's arrival at the Customer/Passenger Service Center, we will create a winter clothing safekeeping file for him/her, and the passenger leaves his/her unwanted winter clothing there and receives a winter clothing safekeeping card.
3.Claim Winter Clothing in Safekeeping
You can claim your winter clothing by presenting your claim check when you return.
Terminal-2 Customer Service Center  Tel: 010-96158 (operators available 24 hours a day)  Location: Beside Gate 15 on the first floor of Terminal 2
Information desk at Exit B, T3  Hotline: 010-96158 (24-hour service)  Add.: Outside Exit B, public area in the Arrival Hall on Floor 2, T3
3) Notes
1.The lockers are only for the clothing safekeeping purpose. Before putting your clothing for safekeeping, please check all its pockets and take out any personal belongings. The airport will accept no responsibility for their loss.
2.The safekeeping card should be kept properly as you will need it to claim your clothing.