Baggage Wrapping

Baggage Wrapping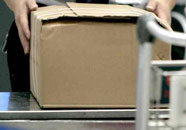 Generally speaking, cartons must be packed with plastic belt, while soft bags must be locked. Any baggage to be checked in must be well packed, locked and fastened well, which can sustain a certain pressure and can be loaded unloaded and shipped under normal operating conditions. Passenger can decide on whether to pack his/her baggage with plastic belt.
Packing Tape: RMB10 per piece of luggage
Wrapping Film: RMB30 per piece of luggage
Luggage Strap (400mm): RMB20 each
Small Cardboard Box (300mm*180mm*180mm): RMB10 each
Large Cardboard Box (500mm*350mm*300mm): RMB15 each
Bubble Wrap (120mm*60mm): RMB10 each
Handle (225mm *35mm): RMB5 each
Note: we will provide free-based packing service with a free small cardboard box (300mm*180mm*180mm) if passengers only need to pack alcoholic beverages and cosmetics.