Airport Transport
Airport Maps
Parking garages
Downtown Transport
Airport Shuttle

Airport Shuttle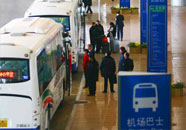 Passengers in urban area can enjoy round trips between BCIA and Fangzhuang/Xidan/Beijing Railway Station/Gongzhufen/zhongguancun/ShangDi & Olympic village/ Beijing West Railway Station/Huilongguan/Tongzhou/Beijing South Railway Station/Yizhuang/Sihui/Wangfujing Jinbao Street/Wangjing/China Millennium Monument etc conveniently by taking airport shuttle. Passengers in cities around Beijing can enjoy round trips between BCIA and Tianjin/Qinhuangdao/Tanggu/Langfang/Baoding/Tangshan/Cangzhou etc.
Local buses: Ticket prices are based on the distance traveled. A ticket costs 15, 18, 21 or 24 yuan, depending on your destination. For price detail on different routes and stops, please check it out with the airport bus ticket office.
Coaches
Starting from Jan. 1, 2014, passengers of Capital Airport inter-provincial coach need to present their valid IDs when buying tickets and when boarding the coach.
Beijing to/from Tianjin: RMB 82/per person
Beijing to/from Tanggu: RMB 94/per person
Beijing to/from Qinhuangdao: RMB 140/per person
Beijing to/from Langfang: RMB 40/per person
Beijing to/from Baoding: RMB 95/per person
Beijing to/from Tangshan: RMB 80/per person
Beijing to/from Cangzhou: RMB 100/per person
Tickets Offices ( From BCIA )
T1: Gate No. 7 (inside) on F1
T2: Gate No.11 (outside) on F1
T3: Gate No.7 or No.9 (Outside) on F1
Local buses : 0086-10-64573891 / 64594376 / 64594375
Coaches : 0086-10-64558718
Local buses(Click route for more)
Coaches(Click route for more)