Airport Transport
Airport Maps
Parking garages
Downtown Transport
Taxis

Taxis
Capital Airport provides taxi stops at the airport, so you can take a taxi to or from the airport.
Airport Taxi Dispatch Management Number: (010)64541100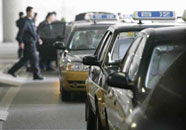 T1: Outside Gate 1 on F1
T2: Outside Gate 5 to 9 on F1
T3: Please refer to the signs inside the terminal building
1. The minimum charge is RMB 13 covering the first 3km. The rest will be charged at RMB 2.3/km;
2. RMB 1 Fuel Surcharge/Drive;
3. Low-speed drive and stand-by charge: When the speed is lower than 12km/hr, the surcharge is equivalent to 2-km rent (excluding no-occupancy surcharge) every five minutes during rush hours from 7:00 (including 7:00 sharp) to 9:00 (excluding 9:00 sharp), and from 17:00 (including 17:00 sharp) to 19:00 (excluding 19:00 sharp); the surcharge is equivalent to 1-km rent (excluding no-occupancy surcharge) for the rest of the day.
4. RMB 6 for Each Reservation at Least 4 Hours in Advance; RMB 5 for Each Reservation Within 4 Hours in Advance;
5. Additional 50% of the total fee will be charged as an allowance for the return trip if the single trip has exceeded 15km;
6. No no-occupancy surcharge shall be collected for drive to and from certain spots, i.e., the distance between the starting and ending spots is no more than 2km;
7. From 23:00 (including 23:00 sharp) to 5:00 of the next day (excluding 5:00 sharp), the surcharge for each kilometer is 20% of the rent.
The above is for your information. Should they differ from the regulations of the taxi management authorities, the latter shall prevail.
Tips for taking a taxi
Please pay attention to the charge standards on the windows of the taxi, and the service supervision card of the taxi driver.
Road toll and bridge toll will be afforded by passengers.
Please ask the taxi driver for invoices and take down the car number if necessary.
Please take a taxi with official certification at the airport. Don't forget your belongings when getting off.